Spending time outdoors and developing my awareness of the landscape is an essential part of my life. For many years now, I have pursued this through an ongoing process of walking, exploration and creativity. Over time I have come to know the landscape that surrounds my home on Morecambe Bay intimately, yet each visit brings something new. My walks in these familiar surrounds are strongly felt, meaningful experiences that contribute to a constantly evolving 'sense of place'. I see this as a mingling of the physical appearance of a landscape; with history, memories and stories; and the inexplicable emotions that certain places bring which linger in the mind and create a sense of belonging.
Whilst walking in the landscape I respond to my experiences directly by making photographs and drawings. From these initial explorations I continue to make paintings in the studio, adopting a more carefully considered approach. I'd like to convey the intensity of feeling of these lived experiences, whilst maintaining a commitment to painting the landscape and the physical characteristics that make each place unique.
I am also interested in the therapeutic qualities of walking, art and the outdoors and have become an advocate for their benefits to wellbeing.
Latest News
When I first started writing for the blog I published a post called "A Sense of Place" which you can find here. In it, I describe a location that I often visit and... READ MORE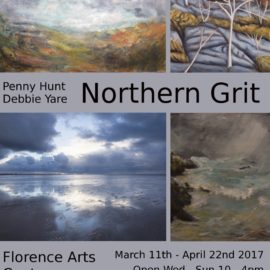 I'm delighted to be exhibiting with Penny Hunt at Florence Art Centre in Cumbria during March and April. Please drop in to take a look at the show if you can. All the... READ MORE